Grant Awards - 2013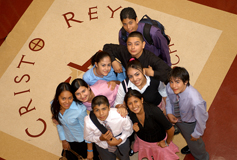 Education/Entrepreneurship
DePaul University, Chicago, IL

$25,000 for program support to re-launch the Coleman Entrepreneurship Center through offering seminars, enhanced advising and social media efforts. The project components support Coleman's Entrepreneurship Impact Strategies that: increase the quality and frequency of experiential/co-curricular activities and increase stakeholder engagement on campus and in the community. Activities seek to build core self-employment skills not through the curriculum, but through co-curricular engagement.
Developmental Disabilities
NorthPointe Resources, Inc., Zion, IL

$70,000 toward support for the Nursing Services Program & Self Advocacy Program which will address the healthcare needs of residents, and help teach individuals with intellectual/developmental disabilities to be advocates for their healthcare needs utilizing the "Ask Me 3" program.

IFF, Chicago, IL

$125,000 to support the Home First Illinois - Community Living Initiative. The Community Living Initiative will focus on the development of 50 small, group homes in downstate Illinois for adults with developmental disabilities who are transitioning out of the State of Illinois' Murray Developmental Center in Centralia, IL. Murray is one of seven large institutions which house individuals with developmental disabilities. The scope of this project is to organize and plan the initiative and to begin implementation in time to transition individuals as early as fall, 2013.
Health & Rehabilitation
Rainbow Hospice and Palliative Care, Mount Prospect, IL

$50,000 towards support for the Rest in Comfort Campaign for capital improvements for the Rainbow Hospice Ark inpatient hospice unit. Improvements to the space are intended to upgrade furniture, equipment, and patient and staff areas.