Archived Grant Awards - 2012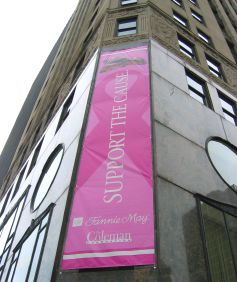 Education/Entrepreneurship
California State University, Fresno, CA

$80,600 for renewed funding for the chair position in Entrepreneurial Studies at California State University, Fresno. Over two years, the Coleman Chair will be engaged in the formulation and execution of programs on and off campus that further advance entrepreneurship training and education in California's Central Valley.

Coleman Entrepreneurship Faculty Fellows 2011-2012 Program (various colleges and universities)

$344,000 to support the Coleman Foundation Faculty Entrepreneurship Fellows Program intended to build Entrepreneurship Education in departments across campuses of participating colleges and universities. Project Directors identify Faculty Fellows from disciplines outside of Entrepreneurship and the Business school. Faculty Fellows, working under the guidance of the Project Director, will engage in projects which advance self-employment education. Participating colleges for the class of 2011-2012 include California State University Fresno, Canisus College, DePaul University, Finlandia University, Illinois State University, Juniata College, Lawrence Technological University, Lawrence University, Mesa State College, Millikin University, North Central College, Northern Illinois University, Quincy University, Simmons College, St. Louis University, Texas Christian University, University of North Carolina - Greensboro, Western Kentucky University, Wichita State University, Worcester Polytechnic Institute.

Collegiate Entrepreneurs' Organization (CEO), IL

$75,000 to support the 2011 Collegiate Entrepreneurs' Organization (CEO) National Conference to be held in Fort Worth, Texas October 27-29th, and for new organization development.

Consortium for Entrepreneurship Education, OH

$25,000 to provide scholarships for Annual Entrepreneurship Educators Forum to be held in Cincinnati, Ohio November 4-7, 2011. Funds will provide scholarships for professional development for entrepreneurship educators teaching at high schools and small colleges.

Generation E Institute (GenEI), MI

$170,000 to support Youth Entrepreneurship Education which includes support for the Five Step Community Approach for Youth Entrepreneurship, and program expansion through development of GenEI associates in core communities. GenEI expects every student participating in the youth entrepreneurship program to experience actually starting and running a business rather than learning just how to start a business.

Idea Village, LA

$75,000 to support the entrepreneurial program in partnership with Tulane University to establish the Education Entrepreneur Challenge to encourage development and venture creation that provide a commercial solutions to improving education. Idea Village will partner with Teach for America's (TFA) Greater New Orleans Region to promote self-employment to TFA members, provide skills and educational training as well as technical support and pre-development funds. The pilot program is to serve as a model for other TFA regions.

Illinois State University, IL

$60,000 to support program expansion of the George R. and Martha Means Center for Entrepreneurial Studies which will enhance the student entrepreneurship experience, entrepreneurship faculty training, and outreach to the small business community. Program expansion will also help create a pathway for high school students interested in entrepreneurship to enroll in courses at the College.

North Central College, IL

$76,177 for continued support of Self Employment in the Arts (SEA) Program. The program consists of an annual conference for art students, faculty and practicing artist, and provides resources to assist artists in becoming self employed. The twelfth annual conference will be held in February 2012.

Providence St. Mel School, IL

$173,000 to support Classroom Technology including upgrades, improvements, and enhancement of technology resources by integrating SmartBoards and digital projectors into classrooms; upgrading existing hardware and software in the computer lab; acquiring and adopting a next-generation software to monitor, assess, and improve student performance.

Upper Iowa University, IA

$25,000 to develop the entrepreneurship program by creating new E courses - Venture Creation, Venture Financing and Product Development -- towards developing an entrepreneurship major. Project components include: development, creation of supplemental course material,migration to on line platform, student activities, and developing entrepreneurs on campus programs.

Women's Initiative for Self Employment, CA

$50,000 to support the Women's Initiative for Self-Employment, a community-based, education organization which has provided self-employment training, support and financing to more than 22,000 women over the past 22 years. Services are provided in English and Spanish to help low-income women achieve economic self-sufficiency and create jobs in their communities. The organization is expanding from California to Chicago and will partner with local non profits. The organizatin anticipates serving 2,700 women during a three-year expansion project, creating more than 1,250 jobs.
Disability Services
Barbara Olson Center of Hope, IL

$32,000 to support a training program for direct support professionals (DSPs) developed through the Intersect for Ability (I4A) network. The DSP Professionalism program would increase the knowledge and skill set of direct care employees working in both residential and developmental training centers serving developmentally disabled, medically challenged and/or those afflicted with Alzheimer's disease.

Center for Independent Futures, IL

$25,000 to support the New Futures Initiative, a process that provides family groups and agencies with financial, legal and support models for creating new community-based housing options for individuals with disabilities in their own neighborhoods.

Clearbrook, IL

$96,000 to support Fostering Intergenerational Inclusive Volunteer Engagement (F.I.I.V.E.). The Chicago program is for five Intersect for Ability agencies and two supporting organizations to establish a program enabling adults (55+) to mentor young people (14-30) with developmental disabilities through service projects in their communities. The initiative includes design and implementation of training of program participants, evaluation of results and dissemination of materials to Intersect partners for program replication.

Countryside Association for People with Disabilities, IL

$125,000 to support the Building Opportunities Project Capital Campaign. Funding will support expansion and modernization of the agencies main facility in Palatine, Illinois including production work space and program service space for older adults with developmental disabilities.

Donka, Inc., IL

$79,000 to support the Collaborative Computer and Assistive Technology Training Program which will provide four enhancements to Donk'a programs: 1) expand services beyond their catchment area of DuPage and Lake County, Illinois, 2) provide assistive technology training to Intersect for Ability staff and clients, 3) expand student base to include children, 4) train Education/Special Education students at Benedictine University on the use of assistive technology and develop an internship program at developmental disabilities agencies.

GiGi's Playhouse, IL

$75,000 to support the Uniformity Project designed to replicate the Playhouse's programmatic model for teaching children with Down syndrome, and replication of the organizational model for new Playhouses. Through establishing uniform systems, to deliver consistent educational and therapeutic programming, this project is intended to provide standard procedures for Playhouses to operate independently. Since its founding eight years ago, the organization has opened ten playhouses with others in various stages of development.

Helping Hand Center, IL

$241,000 to support a pilot program for Enhanced Medical Service Coordination. Helping Hand will facilitate collaboration among ten community agencies (six Intersect for Ability members and four non-member organizations) towards the better coordination of healthcare delivery for individuals with developmental disabilities. Two new healthcare coordinator positions will be created to serve agencies in the south and north suburbs of Chicago.

Seguin Services, Inc., IL

$124,000 to support renewal of the Building Bridges to the Future program which aims to ensure successful transition of special education students into adulthood by working with parents and students in south, west and northwest Chicago suburban high schools to provide coaching, linkages to financial, medical and legal resources, and adult services training experiences. Funding will include bringing transition planning benefits to additional students through training of transitional professionals in Chicago Public Schools and other organizations.
Health & Rehabilitation
Almost Home Kids, IL

$435,000 to support Almost Home Kids (AHK) capital campaign to offer services in partnership new Ronald McDonald House Charities Chicago to be located in near the new Children's Memorial Hospital. AHK is the only organization in the state of Illinois licensed to provide transition care services to medically fragile, technology dependent children in a home like setting. AHK provides transition care to vulnerable children after being released from the hospital, and provide training for caregivers and teaches families how to care of a child upon returning to their home.

Horizon Hospice and Palliative Care, IL

$200,000 towards support of construction for a 13-bed Inpatient Unit to be located in the Johnston R. Bowman Center on the Rush University Medical Center (RUMC) campus. The unit will be staffed through a collaboration between Horizon Hospice's interdisciplinary team and Rush's Palliative Care team.
Cancer Care
Advocate Charitable Foundation, IL

$240,000 to support Cancer Survivorship Program and Clinic. Funding would support hiring an Advance Practice Nurse (APN) to serve as Post-treatment Care Coordinator, working with Cancer Institute physicians and nurses to develop after-care plans which would be delivered to patients in a formal Survivorship Clinic visit.

Leukemia & Lymphoma Society - Illinois Chapter, IL

$30,000 to support the "Be Your Own Advocate (BYOA)" Program designed to meet the needs of newly diagnosed blood cancer patients and their families. The program will be expanded to serve new patients in Chicago, its suburbs, and expand to Rockford, Peoria, and Springfield, Illinois.

Mercy Hospital and Medical Center, IL

$245,000 to support Digital Mammography Equipment for Mercy Hospital's satellite location, and new Family Health Center scheduled to open in July 2012.

NorthShore University HealthSystem, IL

$98,000 to support Living in the Future (LIFE) Cancer Survivorship Education Program for Healthcare Professionals. The LIFE program will be expanded to create and implement an enhanced component: 'Introduction to Cancer Survivorship' curriculum for medical students from the University of Chicago, emerging healthcare professionals, and hospital staff.

Northwestern University, IL

$1,650,000 to support expansion and advancement of Supportive Oncology which serves to assist patients and family members as they endeavor to understand and cope with the physical, psychological, financial, emotional and social aspects of cancer and treatment. Supportive care refers to all services from diagnosis to the end of life.